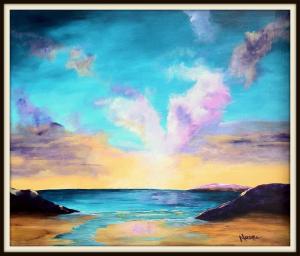 CEE @ MJH Gallery (United Arts Council)


Deborah Naves & Melanie Stoer
July 29 - August 28


The MJH Gallery is located in the United Arts Council of Raleigh and Wake County at 410 Glenwood Avenue, Suite 170, Raleigh NC 27603, behind Sullivan's Steakhouse, the entrance faces Tucker Street. The gallery is open to the public Monday-Friday 9am-5pm and is part of the First Friday gallery walk from 6-8pm on the first Friday of every month. Two VAE Exhibiting Artist Members are showcased-Deborah Naves 2D Visual Artist.
Debuts Sunset Cove along with 15 other works of art.

Artist Statement
My art is inspired by the wonder of nature and her amazing ability to create uniqueness that is elusive, dramatic and rare. That exquisiteness cannot be recreated but I try to capture the feeling and significance of that moment in each one of my paintings – the atmosphere in a sunset; a storm or a stunning sky or an unusual animal pose. I aim to...